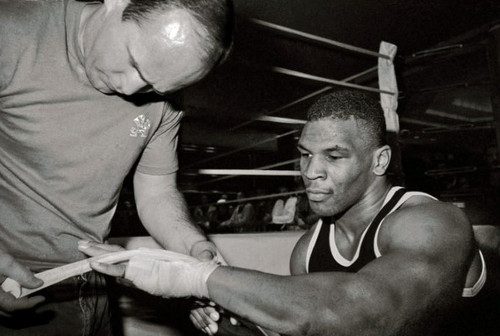 In my last entry, I discussed the need for hard sparring. As mentioned before, it's not something that should happen all the time, but competitive fighters do need to be challenged in the gym. Hard sparring is essential to sharpen skills and develop true fight shape conditioning. There's no better way to prepare for the sport than to practice the sport. The question that came up after my last entry though was who actually performs the sparring? In other words, who are the sparring partners and where do they come from?
Local Sparring Partners
Depending on the level of the boxer, a sparring partner could simply be another fighter who trains at the same gym. For example, if several amateur boxers train together, there's a good chance that they use each other for sparring. It's always nice to have ample sparring available at your gym to minimize the need for travel.
Yet, as a fighter advances, it is often necessary to find sparring partners outside of your own gym. Only so much is gained by repeatedly sparring the same boxers. The fighters become too accustomed to each other, which minimizes the quality of the work. One way to prevent this problem is by occasionally traveling to a neighboring gym for new or different sparring.
There's actually a gym in my area that hosts an open sparring day a few times each month. Invites are sent to several trainers and gyms with the goal of getting each boxer some quality sparring from someone they haven't seen before. It's a great idea for weekends when most people are able to travel.
Professional Sparring Partners
Higher level professional boxers often need sparring partners from outside the local area. At that point, sparring partners are paid to attend a boxer's camp when the fighter is preparing for an upcoming bout. It is not unusual for sparring partners to be flown in from around the country.
A few examples can be seen below through some classic footage of a young Mike Tyson.
Within the video, you'll hear from Dion Burgess and Anthony Davis. Both were professional boxers who were paid to spar with Tyson. Each man obviously had some boxing ability, but they weren't quite at the world class level. In some cases, they probably earned more sparring with Tyson than they did fighting in their own professional bouts.
Burgess and Davis certainly earned each dollar though. As a sparring partner, you are on your own and the job is simple. You need to provide quality sparring. There's a good chance that you will take some serious punishment, and if you do too well, you'll probably be asked to go home. No trainer wants to see a sparring partner show up their fighter. If it continually happens, the sparring partner is often removed from the camp to avoid ruining the fighter's confidence. I've seen it happen firsthand when one of my guys was giving the champion more than his camp expected. They printed out flight tickets for us to go home within an hour of the sparring session. It was fun while it lasted.
Multiple Sparring Partners
Naturally, it isn't common that a sparring partner gets the best of a world class boxer. As a result, some might be wondering how the sparring partners are able to provide quality work. After all, how good could the sparring be if the sparring partner hasn't been able to fight at that level during his own bouts?
The answer is quite simple. Sparring partners are typically used in groups. For example, suppose a world champion is scheduled to spar 12 rounds today. There's a good chance that he will work with three or four sparring partners. Each will go three or four rounds.
Each sparring partner is able to push a faster pace when they only need to box a few rounds at a time. Conversely, the champion is forced to deal with a fresh body every few rounds. It becomes increasingly difficult as fatigue mounts.
Refer to the 7:40 mark within the video below to see an example. At the end of the round, Kevin Rooney tells Dion Burgess that he's done. Burgess responds by saying that he's okay to continue. Rooney doesn't care. He wants a fresh body, so he brings in Mike Jameson.
Final Thoughts
As a boxing trainer, I've always believed in studying the greats from previous eras. There's always something to learn when studying classic footage from the past. The videos above provide two perfect examples. Clearly, Cus D'Amato and Kevin Rooney didn't need any state of the art technology or equipment to build one of the best heavyweights of all time. One thing that they did need though was quality sparring. Mike Tyson would not have become the Mike Tyson we all know if he wasn't getting the quality sparring that was available to him at that small Catskill boxing gym.
In summary, all athletes are a product of what they do. A boxer who doesn't get good sparring will always be limited. Sparring is, and always will be, essential to the development of an aspiring fighter. Thus, if you are a fighter and you aren't getting good sparring, you'd better start looking for it or find a way to travel. There really is no substitute.
Comments
comments