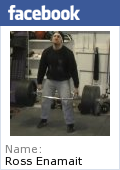 ross@rossboxing.com

---
---
New Apparel
---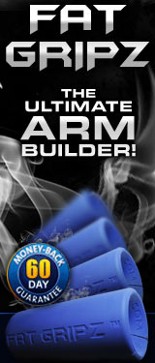 ---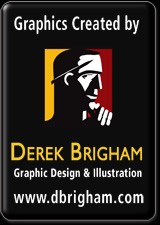 ---
Free Resources
Boxing Link Directory (training related)

MMA Tutorials

Home Equipment Ideas

Strength and Conditioning Compendium

Workout of the Week Archive (created by forum members)


---
The Sweet Science
Boxing With A Poker Face

The Heart of Boxing - By Tom Shook

Intensifying The Heavy Bag - Includes Video Demo

A Twist To Complex Training - Includes Video Demo

The Importance of Sparring

The Martial Art of Boxing - By Tom Shook

Styles Make Fights

The Mental Aspect of Boxing

Be "Smart" When Training

Speed Bag Basics for the Beginner - By Alan Kahn

Heavy Bag Hitting - The Ultimate De-Stressor - By Mike Bresnahan

Let's Go to the Scorecards! - By Tom Shook

Words and Advice From a Professional

Fitness Boxing - The Ideal Cross-Training Alternative - By Mike Bresnahan


---
Strength and Conditioning
Strength Training For Fighters - From RossTraining.com

Hardcore Training - From RossTraining.com - (Includes Video Demo)

Jump Rope Training - Includes Video Demo

Burpee Conditioning - From Bodybuilding.com

The Importance of Variety - From RossTraining.com

Developing A Recipe For Success

The Right Way To Train For Boxing - From Bodybuilding.com

You'd Better Do Your Roadwork

Endurance Conditioning For Boxing

Zone Healing - By Dr. Peter Goldman

Justin Fortune - The Man Who Conditioned Pacquiao

John Schaeffer - Strength and Conditioning Coach For Champions

Warming Up And Cooling Down

The Chin, The Beard, The Knockout

Balance Function in the Amateur to Elite Boxer


---
Nutrition and Supplementation

Supplement Recommendations

The Pain of Making Weight

Ephedrine and Boxing Training

Nutrition Section From Blog (most current)




© COPYRIGHT 2001-2008 ALL RIGHTS RESERVED RossBoxing.com
BRAND NEW - This package includes two videos that total 3 hours and 10 minutes in duration. Within these videos, Ross demonstrates time-tested movements and methods designed to develop true core strength. Topics include free weights, bodyweight exercise, odd objects, and more. Progressions and programming advice are also included throughout this detailed video series.
---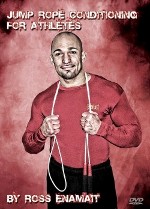 This package includes a DVD and a 44 page electronic book. The DVD is 1 hour and 53 minutes. Within the video, you will learn how and why the jump rope has stood the test of time as one of the most valuable conditioning tools available to athletes. No other conditioning tool will simultaneously develop so many attributes. While conditioning yourself with the rope, you will also enhance qualities such as coordination, agility, footwork, balance, and more.
---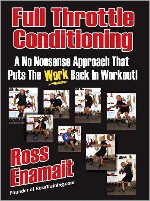 Full Throttle Conditioning includes a 108 minute DVD and 90 page manual. This program will teach you how to create intense and effective workouts. The material is backed with peer reviewed research, loaded with sample workouts and includes detailed information regarding program design.
---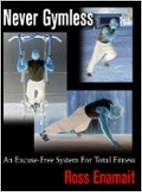 Never Gymless is dedicated to home-based workouts that negate the need for a fully equipped gym. This book promises to be the most comprehensive bodyweight exercise manual on the market, covering topics such as strength training, conditioning, nutrition, program design, sample routines, and more.
---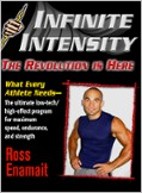 Infinite Intensity utizlies both free weights and bodyweight exercise. This book teaches you to mix and match various modalities, rather than focusing on a single tool. The book is rich in theory, with ample research, but also includes numerous exercises and routines, including a full 50 day sample routine.
---