In less than a week, Bernard Hopkins is scheduled to fight the dangerous Sergey Kovalev in a light heavyweight world championship bout. Hopkins will enter the ring just two months shy of his 50th birthday. Win, lose, or draw, Hopkins will exit the ring as a legendary fighter who has defied father time for longer than anyone could have guessed. Hopkins is without question the undisputed champion of longevity. All young fighters could benefit by listening to his advice and following his example.
It's a Lifestyle
Bernard shares some of his wisdom in the video below. He touches upon several seemingly obvious points that countless fighters fail to consider.
Many fighters live clean while away at training camp, yet abandon that discipline as soon as the fight is over. Such fighters commonly gain excessive amounts of weight in between fights. As a result, much of their training camp is wasted trying to lose weight, rather than focusing on the upcoming opponent.
Bernard Hopkins is one of the rare fighters who stay in shape throughout the year. He eats clean and takes care of his body 365 days a year. His extreme discipline does not expire after a 6 week training camp. It has survived and continually evolved ever since he began fighting professionally in 1988.
In the words of his trainer Naazim Richardson;
"Fighters go have camps. It's not a camp for Bernard, it's a lifestyle."
Bernard is also the type of fighter who is clearly rooted in the fundamentals of the sweet science. Hopkins has never had an overly exciting or flashy style. He is an old school fighter who does whatever he needs to do to win. He is not concerned about keyboard warriors who may not appreciate his style. Hopkins does not enter the ring to please everyone. He enters the ring to win, and his style has certainly contributed to his longevity (as discussed recently).
Putting 1988 Into Perspective
When considering Bernard's career, many boxing fans fail to appreciate just how long he has been around. We all know that Hopkins has fought well in his 40s, but it is almost impossible to imagine that he first fought professionally in 1988.
1988 was a long time ago. When Hopkins first fought, a dozen eggs cost around 65 cents. A gallon of gas cost approximately 90 cents. The Cosby Show was the most popular US television show. Michael Jackson was putting out hits. Ronald Reagan was still the US President. A cell phone was so large that it could have been used as a dangerous weapon. Mike Tyson was the heavyweight champion of the world. Meanwhile, Bernard Hopkins was busy in the gym, just like he is today.
He's Been "Old" for a While
The image below was taken after I ran in 5k road race with Hopkins many years ago. He had not even fought Felix Trinidad at the time, yet critics were already suggesting that he was getting old and his time was limited.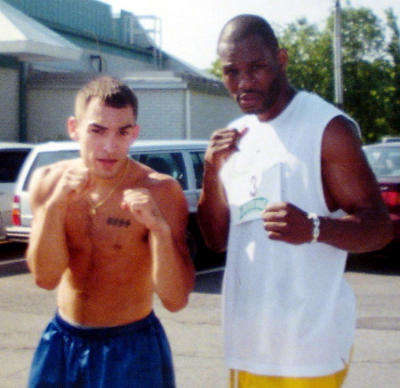 In 2001, Hopkins entered the ring against Trinidad as a huge underdog. I have fond memories of sitting ringside at that fight. I would estimate that 99% of the crowd at the Madison Square Garden was hoping to see Felix Trinidad score another knockout. The 36 year old Hopkins had something else in mind however. He put on a true boxing clinic as he systematically broke Trinidad down from start to finish.
Highlights from that classic fight can be seen below.
Final Thoughts
Whether or not Hopkins can do it again when he faces Sergey Kovalev will not tarnish his legacy. As stated above, regardless of the outcome, Hopkins will exit the ring as a boxing legend. We may never see another boxer last so long while fighting at such a high level.
I'm not sure what this weekend will bring, but I do know that I haven't been this excited about a fight in a long time. I hope that boxing fans tune in, and more importantly, that more young fighters begin to heed the advice and follow the example that Hopkins has shared with us for so many years.
Comments
comments