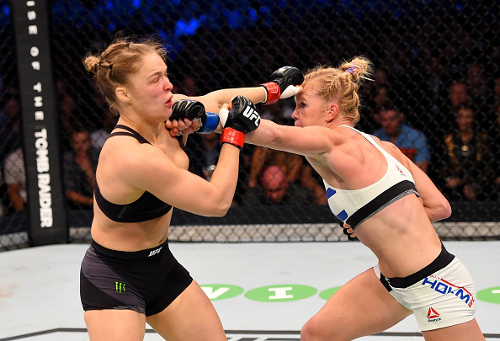 Unless you live under a rock, you've probably heard that former world champion boxer Holly Holm brutally stopped Ronda Rousey in their UFC 193 bout. Holm dominated from start to finish with brilliant footwork, timing, and accuracy. To no surprise, her victory has quickly become one of the most talked about fights in recent history. Social media has been on fire since the knockout. My Facebook and Twitter feeds have been filled with one meme after another. Yet, while many fans have poked fun at Rousey's defeat, I believe there is a valuable lesson to be learned from the fight.
The Life of a Champion
It's worth noting that Rousey and Holm are both world class female athletes. I'm certainly not writing this entry to throw Ronda Rousey under the bus. She's already accomplished more than most will ever dream of achieving. I'm also not writing this article to compare boxing to MMA. The two sports are separate and unique. What they share however are fighters who are disciplined and hungry to succeed. With that in mind, I believe there is a lesson to be learned from this fight that's beneficial to all combat athletes.
For starters, I admittedly don't follow the mixed martial arts as close as boxing. As a boxing coach, I watch MMA on occasion, but I'm not a die-hard fan. Therefore, I haven't followed each step of Rousey's career. I have seen several of her fights though and heard some of her recent interviews. One example can be seen below.
It's the beginning of the interview that really stands out to me. It is almost as if Rousey believed that she could just show up and automatically win. Her tone and comments extend beyond confidence. It sounds more like she was caught up in her own hype.
Now compare her comments with the wisdom provided by former world champion Bernard Hopkins. Pay particular attention to the discussion that begins at around the 50 second mark.
As stated by Bernard,
"Don't get caught up in this bullshit that goes on with success…"
That single line highlights the difference between Hopkins and so many other champions. He never got caught up in his own hype. He knew that he wasn't the most talented fighter in the world, but he wasn't going to let anyone outwork him. Hopkins was always prepared for any opponent and style. He never took anything for granted. Success did not change his approach. He always lived and trained like a Spartan, and that's largely why he was able to fight professionally for over 25 years.
One of the biggest mistakes that a fighter can make is to forget what it took to make it to the top. The hard work doesn't end once you become champion. In some ways, you could say that's when the hard work really begins. Now everyone is gunning for you. To stay on top, you need to work just as hard as you did to get there.
Unfortunately, many fighters are ruined by their own success. They forget their roots and the hard work that came before anyone knew their name. As Marvin Hagler used to say, it's tough getting up to run in the morning when you've been sleeping in silk pajamas in a four post bed.
Final Thoughts
I'm not sharing these videos to take away from Holly Holm's performance (highlights here). I'm actually much more familiar with her than Ronda Rousey. Holm was a dominant boxing champion for many years before transitioning to MMA. I'm not surprised by her victory and I'm happy that she is finally getting the attention she deserves.
With that said, there's still a lesson to be learned from this fight. I don't know if the best Ronda Rousey would ever beat Holly Holm, but there's no denying that Rousey's success went to her head. Aspiring fighters should pay attention and learn from her mistake. There's always another fighter out there who doesn't care who you are or what you've done. When you face that type of opponent, you can't rely on past success to deliver a future victory. You need to prepare for every fight as if your life depended on it.
Once you've lost that hunger and discipline, it's only a matter of time before another hungry lion comes to take what's his or hers.
Related Entry:
Comments
comments