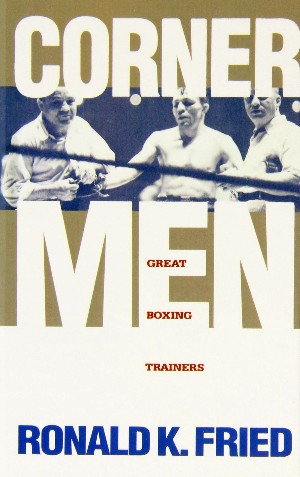 If you are familiar with this blog, you've likely heard me stress the importance of learning from the great boxers who came before us. Naturally, one of the best ways to learn from such fighters is by studying old video. There's more to studying the past than watching video however. Plenty can be learned through reading as well. This is particularly true when studying legendary trainers from the past. Fortunately, author Ronald Fried took the time to interview and research some of the greatest trainers to ever teach the sweet science. Fried's book Corner Men was published in 1991 so it might not be easy to find, but if you can get your hands on a copy, it will be well worth a look.
Learn From The Greats
One of the problems with some of today's trainers is their failure to study the past. Never assume that you know everything and always be willing to learn. Boxing isn't a new sport. There aren't many tricks of the trade that haven't been uncovered. Many of the best trainers from previous eras spent the bulk of their lives studying and teaching the sport. Any time spent reading and learning from these legends is time well spent. Ronald Fried's Corner Men: The Great Boxing Trainers
has chapters on Angelo Dundee, Stillman's gym, Ray Arcel, Jack Blackburn, Charley Goldman, Whitey Bimstein, Mannie Seamon, Freddie Brown, Al Silvani, and Eddie Futch. To no surprise, the entire book is filled with classic stories and epic quotes that are packed with wisdom. A few examples can be found below.
I. Ray Arcel
Arcel certainly ranks among the top trainers of all time. He trained countless world champions throughout his 60+ years in the sport. His words below might seem like common sense, but are often missing today. He didn't treat each fighter the same. Instead, he catered his work based on the temperament of the athlete.
"Each young man that came to me, I made a complete study of his personal habits, his temperament. Because there are some people you could scold and some people you had to be careful with. And you treated each person as a different individual."
II. Mannie Seamon
Mannie Seamon is another legendary trainer who began as an apprentice at just 15 years old. He's most known for his work with Benny Leonard and Joe Louis. When discussing Leonard and his tremendous ability, Seamon shared the wisdom below. Many of today's fighters can learn from this example. Don't just work hard, become a student of the game.
"Benny often went to the gym even when he was not training. Because boxing was his life. He said he discovered new moves and tricks by watching other boxers workout. He was a thorough student of boxing."
III. Al Silvani
Al Silvani is yet another legend. He too worked with multiple world champions but is most known for his time with Rocky Graziano, Jake LaMotta, Nino Benvenuti, and Alexis Arguello. Like all great trainers, Silvani understood the mental side of boxing. There's much more to training boxers than prescribing a physical routine. You've got to know how your fighter thinks so you can keep him on track.
"No fighter is truly calm before a fight. They all have different methods of fright. They all have that fright inside."
IV. Eddie Futch
Like those previously mentioned, Eddie Futch worked with numerous world champions. He certainly ranks among the best ever. He's most known for his time with Joe Frazier however. Futch was incredibly knowledgeable and also one of the most quotable trainers you'll find. Below is his description of how Larry Holmes would defeat the forward charging Randall "Tex" Cobb.
"A bull always charges straight ahead, he can't charge in a circle. You step over, he loses you for a certain time, especially when you hit him with a jab at the same time."
V. Angelo Dundee
Last but not least, Angelo Dundee had some useful advice for all trainers. Dundee worked with some of the greatest fighters to ever live (ex. Muhammad Ali), but wasn't there to steal their spotlight. So many trainers today try to put their own fame ahead of their fighters. You can't be selfish in this sport.
"The fighter is the hero. He's the guy. We [trainers] are secondary guys. We're not I, I, I. You can't be an 'I' guy. I'm not an 'I' guy."
Final Thoughts
I could spend all day quoting Fried's book. The five quotes above are just a fraction of what's included within his 400 page classic. I was fortunate to find the book at a tag sale many years ago and have read through it more times than I remember. I occasionally notice a used copy on Amazon
so if you can get your hands on one, I highly recommend it.
Comments
comments